Are you looking for an entertaining science show for a family event? Creative Science Australia offers a range of fun-filled 30-minute science shows for audiences of children aged 3-12 years and their families. Creative Science Australia shows have been performed live on stage at a range of venues, including the Australian Museum, Centennial Park, Western Sydney Parklands, and the Australian Botanic Garden Mount Annan.

CREATIVE SCIENCE SHOW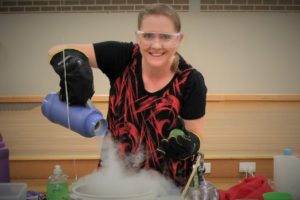 Feast your eyes on spectacular science demonstrations and giggle along to silly science humour. With a basket packed for a picnic, the presenter pulls out some amazing science tricks using a ball, a baguette, a banana, and much more. Featuring super cool liquid nitrogen, this fun-filled show is packed with laughs and audience participation, perfect for children aged 3-12 and their families.
CREATIVE SCIENCE CHRISTMAS SHOW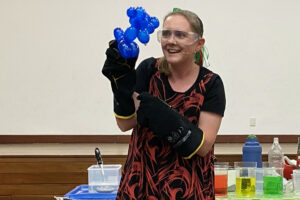 A celebration of the intriguing world of science, presented with Christmas sing-alongs and silly Christmas humour. This festive family show features floating balls, sound science, and demonstrations with spectacularly cool liquid nitrogen.
SPOOKY SCIENCE SHOW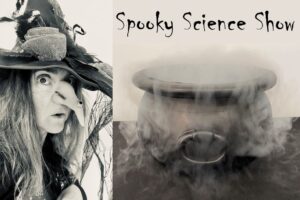 Join witchy scientist Gunkamena as she searches for the spookiest and slimiest substances in the world. The show features slippery slime, lots of magical rhyme, and super cool liquid nitrogen.
Duration of shows: 30 minutes
Audience age range: 3 to 12 year-olds and their families
Audience size:
– Venues with flat seating, up to 100 children seated on the floor, with adults seated around the edge of the audience
– Venues with raked seating, up to 300
Technical requirements:
– Indoor or sheltered outdoor venue
– 1 large table (e.g. trestle table)
– Access to a power point
– Access to water for filling containers
– 2 x head-worn radio mics if available at the venue (otherwise we provide our own)
Price:
Quotations provided on request. Please call 0402 063 921 or contact bookings@creativescience.com.au to discuss the details of your event, including venue, estimated audience size and dates.
For Primary Schools, we offer a number of shows with content linked to the New South Wales Science and Technology K-6 Syllabus.