SCIENCE MASH UP – The ideal highlight for a family science event!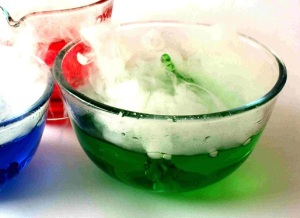 Celebrate science with this silly science mix up featuring a medley of amazing demonstrations. Help highly competitive presenters as they use surprising science demonstrations to prove they can do the best science tricks in Australia! This entertaining, fast-paced and interactive show includes hilarious antics and lots of audience participation.
SUPER COOL SCIENCE SHOW – Sub-zero science for the whole family!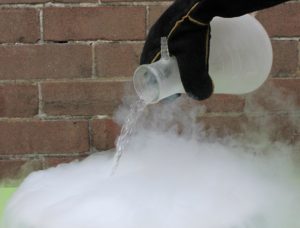 Get set for some serious brain freeze in a scientific exploration of extreme cold. Cryogenic liquid nitrogen creates clouds of fog, mountains of bubbles, and snap-frozen food, with explosive demonstrations of temperature and pressure. This fun-filled and interactive show is packed with laughs and audience participation.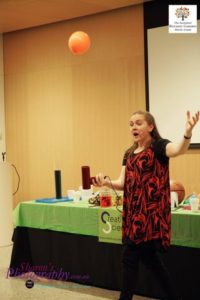 Duration of shows: 30 minutes
Audience age range: 3 to 12 year-olds and their families
Audience size:
– Venues with flat seating, up to 100 children seated on the floor, with adults seated around the edge of the audience
– Venues with raked seating, up to 300
Technical requirements:
– Indoor venue
– 1 large table (e.g. trestle table)
– Access to a power point
– Access to water for filling containers
– 2 x head-worn radio mics if available at the venue (otherwise we provide our own)
Price:
Quotations provided on request. Please call 0402 063 921 or contact bookings@creativescience.com.au to discuss the details of your event, including venue, estimated audience size and dates.
For Primary Schools, we offer a number of shows with content linked to the New South Wales Science and Technology K-6 Syllabus.
The presenters:
Jenny Lynch and Eugenia O'Brien started co-presenting science shows in 2001 and have performed for tens of thousands of children
and families across Australia and overseas. Jenny many years of experience in science and science communication and has written and presented live science shows and segments for children's television programs. Eugenia is a talented performer who has worked as a science communicator in Australia and the UK.